Ready Chef takes it's corporate and social responsibility to our society and environment seriously and continue to work to develop our sustainability credentials.
Sourcing local suppliers and seasonally available local produce, vetting their production standards and offering support in the development of a route to market while reducing the Ready Chef carbon foot print is key policy. Not only is it the support that it gives to the local economy, it reflects the wishes of today's chefs who demand to be assured of the provenance and pedigree of the food that they are creating for their customers.
We encourage all those we have partnered up with to be proactive in seeking to find a workable balance between the grower and the natural world. Ready Chef are proud to be working alongside organic growers such as Kilkenny's Vincent Grace at Riversfield Farm proving beyond doubt that responsible farming in a shared environment with nature is both possible and commercially viable.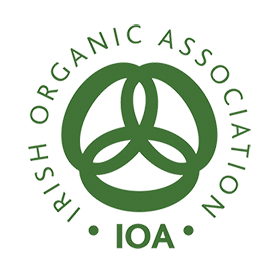 Ready Chef's willingness and commitment to work with and support their growing partners has commanded a respect that allows us to have a confidence in our supply chain and opens doors regularly to other growers wanting to partner up with ethical ideals. The benefits to the local economy and our customer base are clear.
Quality Management Systems
Total commitment to Quality Management Systems meant Ready Chef's has had it's BRC accreditation in place since 2013.
Ready Chef make every effort to ensure that all of our waste is dealt with in an environmentally responsible manner.
All packaging materials delivered with fresh produce into Glasnevin are recycled where possible and suppliers are providing ever improving biodegradable and compostable packaging solutions.
Our compostable waste from production is collected by a licenced waste management service provider and dealt with, with the best interest of the environment in mind.
State of the art UV filters and traps ensure the safety of all water used in the facility and that zero waste is placed in to the city sewer system.
Corporate and Social Responsibility
Ready Chef's commitment to it's Corporate and Social Responsibility goes beyond compliance and legislative requirements.
Ready Chef sponsor Barretstown's Ian Daly Swim A Mile With A Smile charity swim in aid of Child Cancer Care and specifically, Barretstown, www.barretstown.org and the National Children's Research Centre at CHI Crumlin, www.cmrf.org.
Both of these wonderful charities benefit equally from the sponsorship raised during the event. 2020 will be the 17th year of the event and in that time Barretstown has raised over €607,000 for the charities.